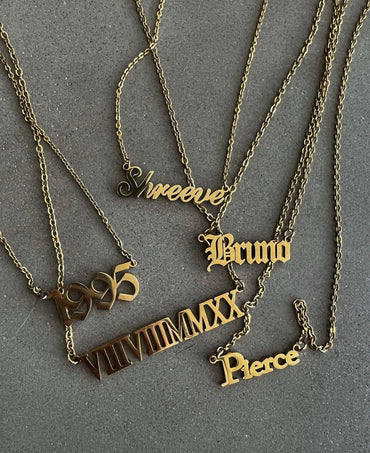 When it comes to accessorizing, there's nothing quite like a personalized gold name necklace to add a touch of elegance and individuality to your outfit. VibeSzn, a St. Louis-based jewelry brand, offers a stunning range of custom chains and personalized gold name necklaces that are sure to elevate your style game. In this blog, we'll explore different ways to style VibeSzn necklaces, showcasing the versatility and charm of these personalized accessories.
 1. Effortlessly Chic: Layered Custom Chains:
Layering necklaces is a trend that adds depth and sophistication to any ensemble. With VibeSzn's custom chains, you can create a unique layered look that captures attention. Start with a shorter chain featuring a delicate pendant or charm as a base layer. Then, add your personalized gold name necklace as the focal point. Choose different chain lengths and pendant styles to achieve a balanced and eye-catching composition. This layered look effortlessly enhances your everyday style.
 2. Minimalist Elegance: Solo Gold Name Necklaces:
Sometimes, less is more. Let your personalized gold name necklace shine as a standalone statement piece. Opt for a dainty and elegant chain that delicately displays your name or a meaningful word. The simplicity of the design paired with the richness of real gold creates an understated yet sophisticated look. Whether you're attending a casual gathering or a formal event, a solo gold name necklace from VibeSzn adds a touch of elegance and personalization to any outfit.
 3. Mixed Metals: Combining Gold with Other Metals:
Don't be afraid to mix metals when styling your VibeSzn necklaces. Experiment with different combinations to create a unique and eclectic look. Pair your gold name necklace with silver, rose gold, or even gunmetal chains to create a dynamic contrast. Mixing metals adds depth and visual interest to your overall style, allowing you to showcase your creativity and fashion-forward mindset.
4. Casual Glam: Gold Plate Necklaces and Everyday Outfits:
Elevate your casual ensembles with a gold plate necklace from VibeSzn. These trendy necklaces feature horizontal or vertical bar pendants personalized with your name or a word of your choice. Wear it with a simple white T-shirt, jeans, and sneakers for an effortlessly chic look. The sleek design of the gold plate necklace adds a touch of sophistication to your everyday style, ensuring you stand out with minimal effort.
5. Personalized Gifts: Name Necklaces for Loved Ones:
VibeSzn's personalized name necklaces make thoughtful and meaningful gifts for your loved ones. Show how much you care by gifting them a custom gold name necklace that represents their unique identity. Whether it's for a birthday, anniversary, or special occasion, a personalized necklace is a heartfelt gesture that will be treasured for years to come. Choose their name, a significant word, or an inspiring message to create a personalized gift that speaks volumes.
Conclusion: VibeSzn's collection of custom chains and personalized gold name necklaces opens a world of styling possibilities. From layered looks to minimalist elegance and casual glam, these accessories allow you to express your individuality and elevate your style effortlessly. Whether you're styling for yourself or seeking a meaningful gift, VibeSzn's necklaces with names are sure to leave a lasting impression. Embrace the charm and versatility of personalized necklaces and let your style shine with VibeSzn.