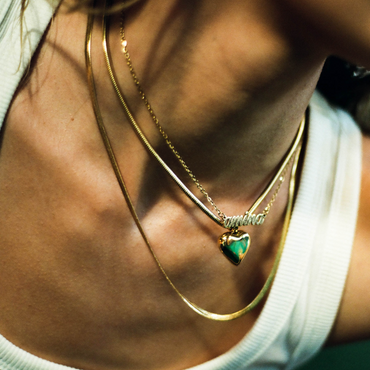 Looking for some pointers on layering necklaces this summer? You're in the right place. Necklaces are a versatile accessory that make it easy to elevate any outfit, adding a touch of sophistication and personal style. VibeSzn offers a curated collection of 18k gold-plated, 100% tarnish-free necklaces that make a great compliment to just about any style— but the principles we'll cover in this blog apply to any layering you might want to try. So, let's look at the art of layering and get you the tips you need to achieve a fashionable and cohesive layered necklace look.
Choose a Focal Point: For a more understated look, start by selecting a focal point for your layering. This could be a statement pendant, a charm necklace, or a piece with intricate detailing. The focal point will anchor your layers and serve as the centerpiece of your stack. There's nothing to stop you, though, from double-dipping "focal points" if you want to really stand out. In fact, at VibeSzn we often suggest combining a Script Nameplate, a Herringbone Chain, and something like our Saint Necklace for a bolder combination.
Mix Lengths and Styles: When layering necklaces, it's good to experiment with different lengths and styles to create depth and visual interest. Combine shorter necklaces with longer ones to achieve a cascading effect or mix delicate chains with chunkier ones for a textured look. VibeSzn offers necklaces in various lengths and styles, allowing you to play with different combinations until you find a balance that suits your personal style.
Embrace Different Materials: Don't be afraid to mix and match different materials when layering VibeSzn necklaces. Incorporating metals like gold, silver, and rose gold can add depth and contrast to your layered look. We love a mixed metal look. Consider combining different textures, such as delicate chains with gemstones, pearls, or beads, to create a unique and eye-catching look. VibeSzn offers a diverse range of materials and designs, making it easy to find complementary pieces for your layered necklace style.
Mindful Stacking: Layering necklaces is an art that requires attention to detail. To achieve a cohesive and polished look, be mindful of how your necklaces stack together. Avoid tangling by using necklaces by investing in a VibeSzn Layering Clasp. Additionally, consider the placement of each necklace to ensure they sit harmoniously on your neck, allowing each piece to shine individually while maintaining an overall balanced aesthetic.
Buy Jewelry That Lasts: The last thing you want is poorly made jewelry turning your skin green. At VibeSzn we think you deserve pieces that can be worn every day, from the gym to the pool to the party, which is why we stick to real 18k gold-plating. So, while you can take the principles in this blog and apply them to any jewelry, we can't exactly guarantee they'll be 100% tarnish-free unless it's VibeSzn you're layering with.
Conclusion: Layering necklaces is a creative and on-trend way to express your personal style. By selecting a focal point, mixing lengths and styles, embracing different materials, being mindful of stacking, and considering your neckline and outfit, you can master the art of layering and create stunning, unique looks that reflect your individuality.