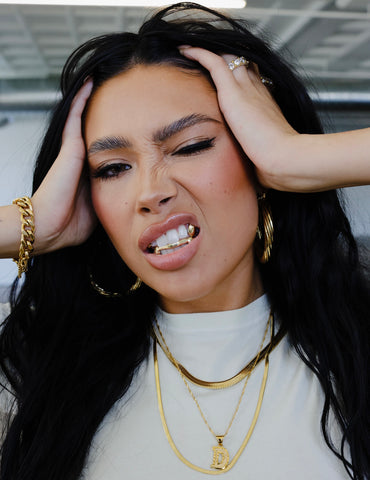 Never owned grills before? We've got you covered. In this blog, we'll briefly take a look at how to use a grills mold kit for best results, and how to care for your grills so you get the most out of your purchase, plus a few other helpful tips.
 Using the Mold Kit
Unbox Your VibeSzn Grills— If you've not already, check out VibeSzn's grills: your choice of metal (up to 14k gold), your choice of style (from bar to drip to outline), made to your specifications.
Grab the Impression Tray— Grab your impression tray from the box and stand in front of a mirror.
Open the Putty— Take one putty marked "base" and one marked "catalyst", which you'll be mixing for the mold.
Mix the Putty— Use your fingers to mix the base and catalyst together for 45 seconds, until your putty mixture is one uniform color. Note: do not use rubber gloves to mix.
Load the Putty into the Tray— Roll your putty mixture into a log shape and spread it even into the upper tray.
Make Your Mold— Place the tray over the center of your teeth and press gently to the end.
Finish The Mold— Once you've bit down into the putty, pull the tray straight down, making sure not to change the shape of the mold as you take it out.
Repeat As Needed— Repeat the process if you have both top and bottom trays. Don't be worried if you don't get it right the first time- that's what the backups are for! 
Cleaning & Caring For Your Grills
Take Them Off— Remove your grills from your mouth and gently rinse them off with warm water.
Grab A Toothbrush— Use a toothbrush with soft bristles and gently scrub your grills using warm water. Cover the entire surface, especially the part that touches your teeth.
Use Hydrogen Peroxide— Fill a cup with enough hydrogen peroxide to fully submerge your grills.
Let It Sit— Keep your grills submerged in the hydrogen peroxide for about five minutes, long enough to kill any bacteria.
Rinse Your Grills— Take your grills out of the hydrogen peroxide and rinse them off. Then use your toothbrush to scrub away in excess cleaning solution. Give them one final rinse in warm water.
Dry Your Grills— Use a soft cloth to gently dry your grills. Be sure to use a clean cloth and to take your time, so as not to damage the metal.
Additional Care: For the best possible presentation, we suggest you invest in a non-toxic gold cleaning solution. Using this sort of solution will give you that extra level of just-out-of-the-box shine, much like hand-waxing a car. Alternatively, if you're looking for a faster way to clean your grills (between more thorough cleaning sessions), you can also soak your grills in mouthwash for 5-10 minutes, just make sure to thoroughly rinse them off afterwards.