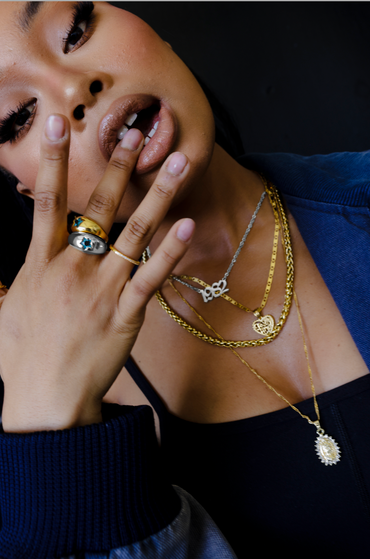 In the world of fashion and jewelry, finding the perfect balance between elegance and affordability can be tricky. Enter VibeSzn, known for its craftsmanship and attention to detail. One of the standout features of their jewelry is plating precious metals over stainless steel, making for a tarnish-free piece of jewelry that's long-lasting and affordable. With options ranging from 18k gold and rose gold to silver, VibeSzn has you covered no matter what style of jewelry you're after. In this article, we'll look at three plating options VibeSzn offers.
1. 18k Gold Plating: Elegance Redefined
When it comes to luxury, 18k gold is the epitome of opulence. VibeSzn's 18k gold-plated stainless steel jewelry boasts a timeless allure that appeals to those who seek sophistication and refinement. The warm, radiant hue of 18k gold beautifully complements the high-quality stainless steel base, resulting in pieces that exude a lavish aesthetic without the exorbitant price tag. VibeSzn meticulously applies 18k gold plating using advanced techniques to ensure a seamless and durable finish. This attention to detail ensures that the gold plating resists tarnishing and retains its brilliance over time, making each piece a long-lasting investment in style. 
2. Rose Gold Plating: Subtle Style
Rose gold has earned its place in the world of jewelry for its unique, understated stylishness. VibeSzn offers many of its pieces in rose gold, affording you the option of wearing bold pieces in a subtler finisher. The soft, rosy tint of this plating option adds a touch of subtlety and elegance, making it perfect for both everyday wear and special occasions. VibeSzn's rose gold plating process involves careful layering to achieve the ideal shade and finish. And just like with its other pieces, VibeSzn is committed to crafting rose gold-plated jewelry that—because it's set over stainless steel—will keep from tarnishing so you can wear it for a long time.
3. Silver Plating: Timeless Simplicity
For those who appreciate the beauty of simplicity and versatility, VibeSzn's silver-plated stainless steel jewelry is an excellent choice. Silver has a timeless appeal that transcends trends, making it an enduring favorite in the jewelry world. The sleek, silvery finish of VibeSzn's silver-plated pieces effortlessly complements a range of styles, from classic to contemporary. VibeSzn's commitment to quality is evident in their silver plating process, which ensures that each piece gleams with a polished shine. The durability of stainless steel combined with the understated elegance of silver plating results in jewelry that can be cherished for years to come.
Conclusion: VibeSzn's dedication to offering a wide range of plating options for their stainless steel jewelry speaks volumes about their commitment to providing customers with unparalleled quality and style. The carefully curated selection of 18k gold, rose gold, and silver plating options allows individuals to express themselves through exquisite pieces that suit their unique preferences.